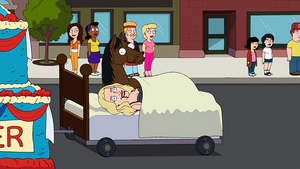 Barbaro (April 29, 2003 – January 29, 2007) was an American thoroughbred that decisively won the 2006 Kentucky Derby, but shattered his leg two weeks later in the 2006 Preakness Stakes, ending his racing career and eventually leading to his death.
Barbaro and Madonna are seen in a bed together on a float in the Stoolbend Unity Parade in "Brown History Month".
Ad blocker interference detected!
Wikia is a free-to-use site that makes money from advertising. We have a modified experience for viewers using ad blockers

Wikia is not accessible if you've made further modifications. Remove the custom ad blocker rule(s) and the page will load as expected.