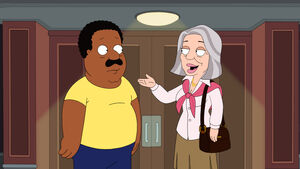 Barbara was Cleveland Brown's nanny.
After being crowned the "Whitest black man in America" in "The Men in Me", his mother sends him to 123 Main St. where Cleveland discovers he picked up his habits from his nanny who helped his mother raise him after his father abandoned the family. She taught him his catch phrase of "Party over here!" and how to play bridge and tennis. When he invites her to dinner with his family, he finds out that she had a fling with his mother when Freight Train left them. Caught between angry family members, leaves even more confused about his identity. Barbara catches up with him and helps Cleveland to finally learn that happiness comes from being comfortable in your own skin. Cleveland invites her to the Justin Bieber concert but she turns him down to go to a rap concert so Cleveland takes Junior.
Barbara is voiced by Florence Henderson.
Ad blocker interference detected!
Wikia is a free-to-use site that makes money from advertising. We have a modified experience for viewers using ad blockers

Wikia is not accessible if you've made further modifications. Remove the custom ad blocker rule(s) and the page will load as expected.