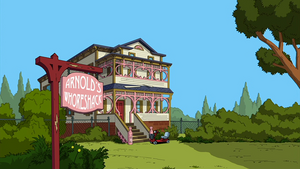 Arnold's Whoreshack is the local house of prostitution in Stoolbend. According to Ernie Krinklesac, you can have anything you want done to you here for thirty-five dollars. The 'working girls' include Velvet, Mable, Xianhanxinganwa, 'One-Arm' Mavis, and 'Two-Virgine' Merline. Lester is a regular customer here.
In "Cleveland Jr. Cherry Bomb", Cleveland Brown Jr. decides to lose his virginity at Arnold's after he sees that his dad is embarrassed by his pledge of celibacy. Cleveland catches up with him just before he has sex with 'Two-Virgine' Merline and convinces him it's ok to remain a virgin. Jr.'s friend Ernie marries Merline instead.
Ad blocker interference detected!
Wikia is a free-to-use site that makes money from advertising. We have a modified experience for viewers using ad blockers

Wikia is not accessible if you've made further modifications. Remove the custom ad blocker rule(s) and the page will load as expected.