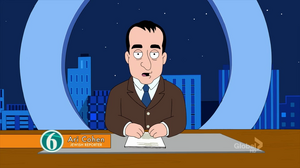 Ari Cohen is the Jewish channel 6 news anchor who fills in for everyone else during Christian holidays.
When Arch bails out of being Santa at Grundle's Department Store, leaving the kids without presents in "'Tis the Cleveland to be Sorry", Ari turns the story over to a rapping vampire who tries to tells the news but gives up on the rapping.
Ari also presents the "Christmas Angel" news feature when Donna nominates Cleveland for his work at the Stoolbend Mission, unaware that he has been passing himself off as homeless to score free gourmet food and goods.
Ad blocker interference detected!
Wikia is a free-to-use site that makes money from advertising. We have a modified experience for viewers using ad blockers

Wikia is not accessible if you've made further modifications. Remove the custom ad blocker rule(s) and the page will load as expected.