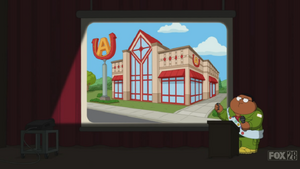 Arby's is a fast food restaurant chain in the United States and Canada. It is primarily known for selling roast beef sandwiches and curly fries. The Arby's menu also includes chicken sandwiches, appetizers, salads, Market Fresh sandwiches, wraps, and submarine sandwiches. Its headquarters are in Sandy Springs, Georgia.
When Cleveland Brown Jr. presents the freedom Scouts wilderness trip in "American Prankster", he tells of their route which turns at an Arby's, prompting Cleveland Brown to note "There it is."
Ad blocker interference detected!
Wikia is a free-to-use site that makes money from advertising. We have a modified experience for viewers using ad blockers

Wikia is not accessible if you've made further modifications. Remove the custom ad blocker rule(s) and the page will load as expected.