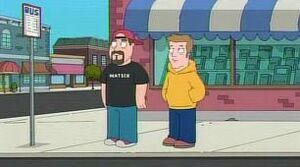 Andrew Paul "Andy" Wachowski, along with his brother Laurence "Larry" Wachowski, are American film directors, writers and producers, notable for creating The Matrix series.
Shortly after the release of Matrix Reloaded, it was rumored that Larry Wachowski began to make small public appearances dressed as a woman, using the name Lana Wachowski. In his column, published May 30, 2003, David Poland said "Every indication I have says that Larry Wachowski is now in the process of changing his sex. Dressing in public like a woman, taking female hormones and yes, having a sex change operation." This was further supported by a March 2006 San Francisco Chronicle article on transgender people, which repeated that Larry Wachowski, "has changed his sex and is now living as Lana Wachowski." However, in a 2007 interview Joel Silver, the producer of numerous Wachowski films, stated that the rumors concerning Larry's sex change were "all untrue", further explaining, "they just don't do interviews, so people make things up." On Oct. 20, 2012, Lana admitted she was transgender, and was followed by Andy coming out as "Lilly" in March of 2016.[1]
Andy is seen in "Ladies' Night" at a street corner where a passer by asks Andy if he's the guy that dresses as a woman. Andy responds that its his brother.
Andy is also seen at Freight Train and Cookie Brown's wedding in "You're the Best Man, Cleveland Brown".
Ad blocker interference detected!
Wikia is a free-to-use site that makes money from advertising. We have a modified experience for viewers using ad blockers

Wikia is not accessible if you've made further modifications. Remove the custom ad blocker rule(s) and the page will load as expected.