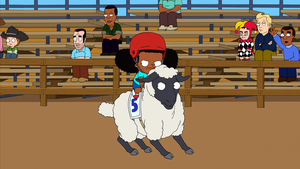 The song that Rallo first hums and is later repeated by Cleveland Jr. at the end is "Happy Trails".
This episode marks the first time that American Dad!, one of Seth MacFarlane's other shows, crosses over onto The Cleveland Show. An image of Roger is seen on Rallo's belt buckle.
As part of the studio tour on "Take Your Kid to Work" day, Cleveland shows off his father's cable access show Things I hate with Freight Train Brown where he says he hates the Chinese.
A midget jester from the Renaissance Faire watches Rallo's first mutton busting ride.
Ad blocker interference detected!
Wikia is a free-to-use site that makes money from advertising. We have a modified experience for viewers using ad blockers

Wikia is not accessible if you've made further modifications. Remove the custom ad blocker rule(s) and the page will load as expected.