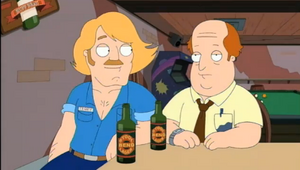 Aaron is one of Cleveland's co-worker's who agrees to help them win the civil war reenactment in "The Blue And The Gray And The Brown".
Aaron plays the role of one of the hostages taken by Tim and his group of thieves in "Die Semi-Hard".
Aaron is voiced by Glenn Howerton.
Appearances
Ad blocker interference detected!
Wikia is a free-to-use site that makes money from advertising. We have a modified experience for viewers using ad blockers

Wikia is not accessible if you've made further modifications. Remove the custom ad blocker rule(s) and the page will load as expected.