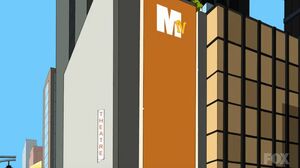 1 Astor Plaza is a 745 ft (227 m). (227 m) high skyscraper in Times Square in Midtown Manhattan, New York City. Completed in 1972, the building is 54 stories tall and was designed by Der Scutt of Ely J. Kahn & Jacobs. Originally known as the W.T. Grant Building, it is currently the headquarters for Viacom and houses the MTV Studios, Minskoff Theatre, the Nokia Theatre at Times Square, and some retail outlets. It is located at 1515 Broadway at West 45th Street.
Roberta tries to pitch her own reality series Roberta Rules at the MTV Studios in "Once Upon a Tyne in New York". Excited when she is at first accepted, she later finds out she was the victim of a prank on another MTV Show So You Think You're Pitching a Reality Show But You're Really Being Taped for a Prank Show! that no one watched.
Ad blocker interference detected!
Wikia is a free-to-use site that makes money from advertising. We have a modified experience for viewers using ad blockers

Wikia is not accessible if you've made further modifications. Remove the custom ad blocker rule(s) and the page will load as expected.